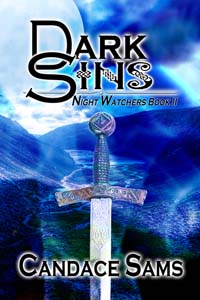 DARK SINS: NIGHT WATCH Book 2
~ The sequel to Eternally Chained ~
Rating: Spicy
Word Count: 93396
ISBN: 978-1-61217-208-8 Digital
ISBN: 978-1-61217-207-1 Paperback
Available at: The Wild Rose Press (ebook) : Amazon (in print and ebook) : Barnes and Noble : : Bookstrand : : Kobo : ibooks : Google
Skord Shorner once lived his life according to chivalric codes. For him, honor is the only thing that matters—until the Night Watch Agency partners him with a beautiful Irish woman to retrieve a magic relic he's been after for almost two centuries.
Ruled by her love of family, Chalyce Duncan is certain Skord will never understand the reasons behind her duplicity. Her heart may yearn for the proud man who's now her partner, but if he learns why that magic object is so important to her, he'll destroy everything she treasures.
The mission must come first. But somewhere in the night…between deceit and duty…truth waits. And there's evil stalking them that may thwart their responsibilities, and destroy what small hope they have of ever being together.

Copyright © CANDACE SAMS
All Rights Reserved
"Look at me, Chalyce."
She'd kept her eyes averted, afraid of the passion she knew he'd see. "We have to keep our minds on business."
"Look at me." he commanded again.
She raised her face.
"Deine augen sind so blau wie saphire."
Translated roughly, he'd just told her that her eyes were as blue as gemstones. "I understood you. I speak German, too."
"There's more I'd say…in the proper setting. I picture a soft bed, candlelight, and music playing in the background. Then I'd whisper things a beautiful woman like you should always hear." He lowered his voice to a level no soul on earth could hear but another vampire standing so close. "I'd thrust into you over and over until pleasure overwhelmed us both. I'd take you a dozen different ways before dawn, then sleep with you on my chest until night came again. You've had me wanting you from the first time I saw you. Did you know that?"
"Stop it. God…please stop," she begged.
"Not until we explore this attraction between us, Chalyce. It's there and won't be denied."
The thunder began to roar again outside the cave. She sensed the rogues leaving in an angry, agitated state of confusion, but was too enraptured by the man before her to recognize the unusual nature of their retreat.



The Wild Rose Press : Amazon : Barnes and Noble : Bookstrand : Kobo : Google : itunes