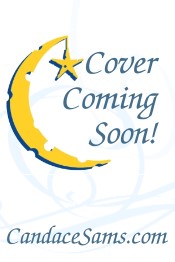 GOBLIN MOON
The fourth Tale of the Order
by Candace Sams
ISBN: TBD
PEARL finalist for Best Paranormal book Write Touch Readers' Award finalist for best paranormal book Book Buyers' Best finalist for best paranormal book Aspen Gold finalist for best paranormal book
To save his race from extinction, the leader of the Goblins is ordered to kidnap and get a child by a human. For a proud Goblin warrior who remembers the horror mankind inflicted on his people, death would be preferable to lying with a woman from the outside world.
Come along with me as I tell the fourth Tale of the Order, Goblin Moon. Meet Tearach Bruce, the leader of the Goblin race. And meet Kathy Parker, the former paramedic he wants so desperately to hate. Is there any way possible for a man of myth to live with a woman from the outside world?


Copyright © CANDACE SAMS
There were only forty-six of his kind left. Tearach Bruce paced the floor of his cottage and ran a shaking hand through his hair. For eight years, he'd racked his brain for a way out of this catastrophic dilemma. As leader of the Goblin faction, it fell to him to find a way to save his people. But how? It had been suggested that mating outside their own race, with other magical creatures of the Order, might be the answer. Not only had it proven futile, but it had resulted in tragedy. Within the last month, another Goblin woman died while attempting to give birth. And three more Goblin children had been stillborn. For eight years, the same sad tale repeated itself over and over. Nothing anyone tried had made the slightest difference. Some of the babies had lived the length of a day, but those instances had been rare.
He couldn't order his people to quit mating or take precautions to keep from bearing children. Swearing off women all together because of the infant mortality rate, he no longer took the sacred herbs preventing pregnancies himself. Some of his people believed one child might survive. And if that one babe lived, so might others. But the deaths were taking a toll on their morale. He might very well be the last leader of a race which was thousands of years old.

Coming Soon!
Related Books:
GRYPHON'S QUEST
THE GAZING GLOBE
STONE HEART
THE CRAFTSMAN
SATYR
KEEPER OF THE LOCH