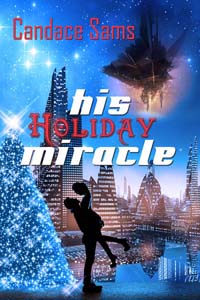 HIS HOLIDAY MIRACLE
Candace Sams
Amazon ASIN: B01M14RCND
Rating: G (for all audiences)
Word count: 17,000
58 pages
Genres: Futuristic romance, Paranormal romance, Christmas romance, Holiday romance, Sweet romance
Publisher: The Wild Rose Press
Available now at Amazon : BN : Bookstrand : Kobo : Google
Rorn T'Kar, Commander of Earth ship Verdon, returns home after battling Earth's enemies for five long years. His one regret is that the woman he still loves, and who broke their engagement, was killed in battle.
Lyra Dench broke her engagement to the handsome Rorn so she could join the Infiltration Corps. Due to the secrecy of her mission she couldn't tell Rorn why she left him almost at the altar.
Five years later Rorn finds himself home again on Armistice Day. The allies have won, but he's lost his heart. For him, homecoming is a bittersweet experience until the love of his life suddenly arrives back home, on his front lawn. Rorn makes a vow. Whatever it takes, he's not letting her walk away again. He's got the second chance he'd hoped for; he's got his holiday miracle.


Amazon : BN : Bookstrand : Kobo : Google
Save