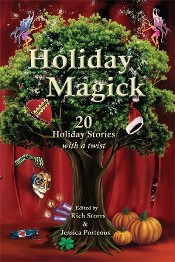 Holiday Magick: 20 Holiday Stories with a Twist
Release: May 21, 2013
Genre: Speculative fiction
Rating: G – for all audiences
Author: Candace Sams and other contributors
Publisher: Spencer Hill Press
Pages: 257
Format: Print – A collection of short, speculative stories on how holidays might have begun
ISBN-10: 1937053490
ISBN-13: 978-1937053499

Available Now At: Amazon.com
People don't usually question holiday traditions or their origins, but maybe they should. Over centuries, explanations of how and why holidays exist may have been lost or changed.
Some holiday histories might only be known by a few individuals. Ancient magic spells could have influenced how we celebrate today. Fairies, zombies, or demons may have shaped our holidays.
Consider the following…
Why do people give red roses and cards on Valentine's Day?
Is there more to the story of Purim than is traditionally told?
Why do people wear green on St. Patrick's Day?
Get your last copies while you can. This is a limited edition title!