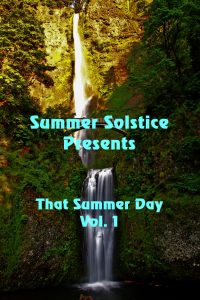 That Summer Day – a 2017 Summer Solstice anthology…at Amazon. (ebook) FREE with Kindle Unlimited!
Also available in print: Amazon
OR
Purchase from the publisher – Solstice Publishing.
Published: June 21, 2017
Mixed anthology. Mixed genres.
My story in this anthology –  The Light of The Sun.
Blurb:
When a botanist from Earth lands on a Celtic-colonized planet during a Summer Solstice celebration, she expects to leave with only a handful of plants to study. Instead, she ends up fighting pirates with a man everyone calls Fear, and discovering a world where dragons fly free.
It's one adventure after another on this lovely garden world.
What would you give to be on a mystical planet during Summer Solstice? What would you do to stay there with a kilt-wearing hero?
Genre: Sweet Romance
Length: A short Celtic story.
ASIN:  B072VTJKD7
Read this story and many others in this super collection of stories!!!
What would summer be without its solstice?