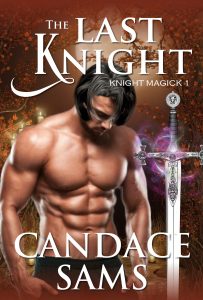 THE LAST KNIGHT
Knight Magick 1
Candace Sams
(December 22, 2017)
Genre: Fantasy Romance
ASIN: B076Z96T59
Available at:
Kindle
THE LAST KNIGHT by Candace Sams
Book One in Candace Sams' Knight Magick series.
The Last Knight
Garrett Bloodnight is bound by his promise to protect the citizens of Great Britain. Through two World Wars, he has upheld the laws regarding immortality, as well as every regulation devised by politicians. For his long-revered service, and his steadfast loyalty, he has been awarded a life of luxury in the hills of Cumbria. It's there that he hopes to live out eternity. Alone but content.
When a young beauty enters his domain as a new immortal, Garrett is ordered to train her for service to the queen. No one told either of them that their paths were meant to cross, and in the most bizarre way.
Whether they like it or not, Garrett and his apprentice are inexorably drawn into very old, and dangerous obligations. Secrets over a thousand years in the making come to rest on the front steps of Bloodnight Hall. For the immortals living there, destiny's call must be answered. They have no choice. They either stand together or they will be destroyed by magic.


Kindle