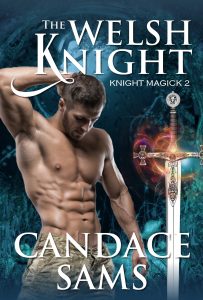 THE WELSH KNIGHT
Knight Magick 2
Candace Sams
(January 26, 2018)
Genre: Fantasy Romance
ASIN: B076Z8RZCF
Available at:
Kindle
THE WELSH KNIGHT by Candace Sams
Book Two in Candace Sams' Knight Magick series.
The Welsh Knight
Macsen Rhys is a man of honor. He has lived for centuries, and has known greatness. He has fought enemies all over the width and breadth of England, and in parts of the world that no longer exist. Today, he still protects truth and light.
There is one thing Mac has never encountered before. Her name is Frankie Radcliffe, and she's a force of nature who is every bit as dauntless as the Texas hurricane that changed her into an immortal.
Mac and Frankie might be new partners, but they must find common ground to fight a very old enemy.
Morgan LeFey is coming back to England. What the Whore of Camelot started in the 5th century, she means to finish in modern day England.
For the moment, only the two immortals can stand in Morgan's way. For now, one Welshman and one American guard the watchtowers in the north from insidious evil.
It has long been said that when two steadfast hearts stand together, nothing can break their bond.
Nothing…but betrayal.


Kindle